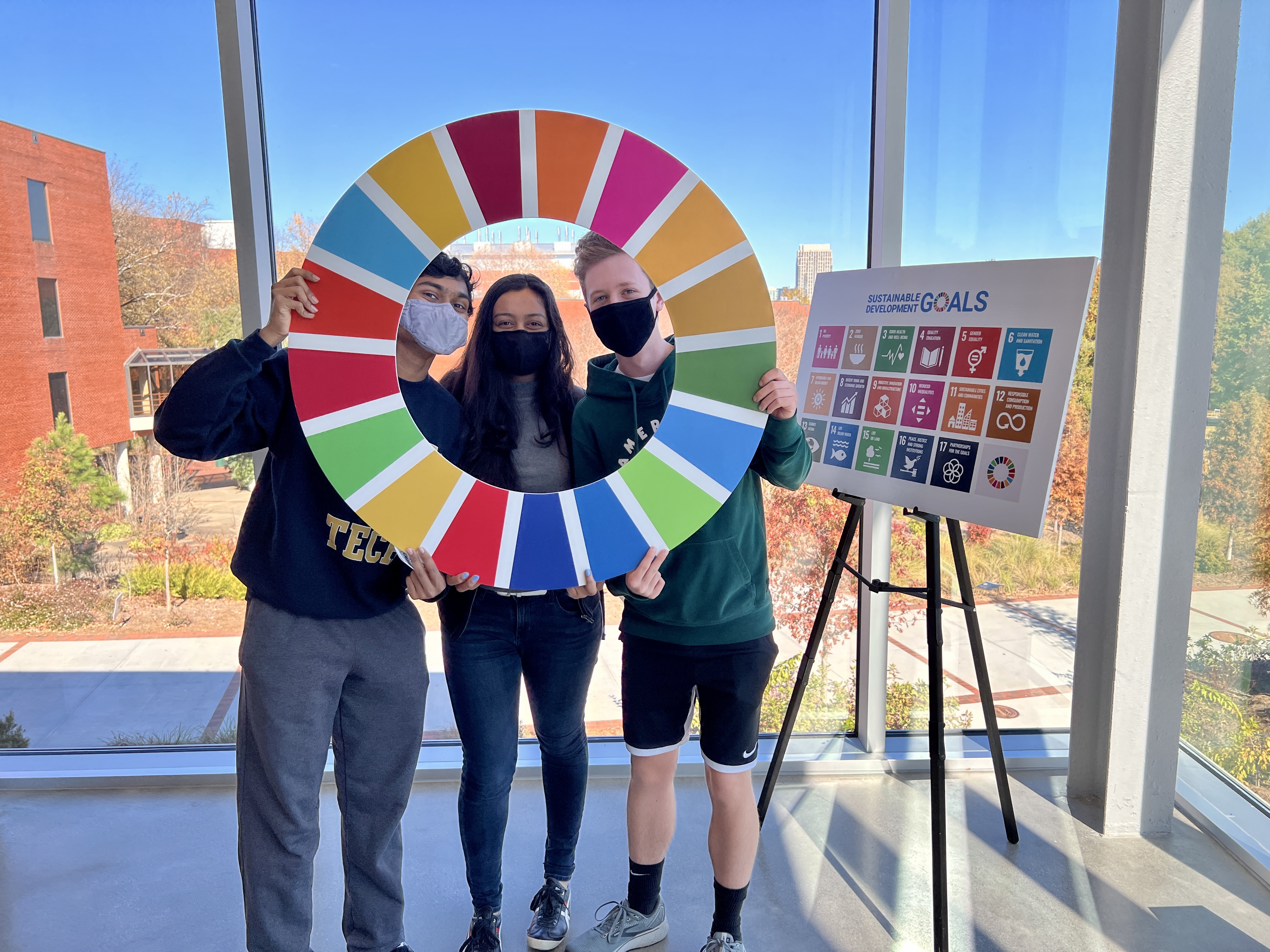 2022 IEW Event Schedule (more to come!)
This year, IEW will take place from November 14-18. If your organization is interested in participating in International Education Week, you can still fill out this form with a proposal for your event.
Questions? Need help developing an idea? Email Kakeng Her at kakeng.her@oie.gatech.edu.
The following chart has detailed events for this year:
| | | | | | |
| --- | --- | --- | --- | --- | --- |
| Day | Date | Event Title | Location | Time | Description  |
| Monday | 11/14 | IEW Kick-off Event | Skiles/Tech Walkway | 10:00 to 11:30 am | Find out more about International Education Week by picking up your 'passport' to the week of event and taking your IEW Flag photo! Come take pictures with Buzz, grab a donut, or win an IEW t-shirt. Join us in kicking-off IEW! |
| Monday to Friday | 11/14 to 11/18 | ML Korean Program Table | Skiles Walkway | 10:00 am to 3:00 pm | Let's explore REAL SQUID GAME AT GT! |
| Tuesday | 11/15 | French Day | Swann Atrium - 106 | 9:30 am to 4:00 pm | A whole day of French programming to celebrate with current and recruit new Francophiles. Presentation of majors and minors, study abroad, summer courses, curriculum and course sequences, as well as fun, games, and food! |
| Tuesday | 11/15 | How to Afford Study Abroad | Savant #308 | 11:30 am to 12:00 pm | Please join the OIE Education Abroad Scholarships Advisor for a session which will cover ways to make study abroad/international opportunities more affordable. |
| Tuesday | 11/15 | LEAD: Global Engineering Minor | SEB #122 | 3:00 pm to 4:30 pm | The Global Engineering Leadership Minor (GELM) is designed to create engineer-leaders who have the technical expertise, global awareness, and leadership skills to address the grand challenges of the 21st century. Students learn communication and leadership skills, gain a deeper understanding of engineering in a global context, and travel abroad for transformative global leadership experiences. |
| Tuesday | 11/15 | Nazaaqat at Georgia Tech Bollywood Dance Workshop | Exhibition Hall: Buckhead Room | 5:00 pm to 7:00 pm | The event will be a 1-2 hour dance class with a performance from GT's own Nazaaqat. During the event, people will get to learn a part of the dance and show it off to all their friends. |
| Wednesday | 11/16 | Internationalize Your Curriculum: Study Abroad, Minor in INTA, Certificates | Habersham Building lobby & court yard | 11:30 am to 12:30 pm | Learn about multiple study abroad programs offered by the Sam Nunn School of International Affairs and how you can turn your courses abroad into a certificate in International Affairs. |
| Wednesday | 11/16 | Prestigious Fellowships - International Awards | Bill Moore Student Success Center: President's Suite C | 12:00 pm to 1:00 pm | Hear about undergraduate and post-graduate awards that provide funding for International Experiences, including graduate degrees, independent research, teaching English as a foreign language, and hands' on community engagement. |
| Thursday | 11/17 | Passport to GT | 760 Spring St. N.W. Atlanta, GA 30332 - GTAPS Classroom | 9:30 am to 11:30 am  | Showcasing the international student experience and creating a dialogue on ways GT offices can better serve their international student population. |
| Thursday | 11/17 | Invited Talk: Local and Global | Zoom Link coming soon! | 2:00 pm to 3:00 pm  | Be global while local! |
| Thursday | 11/17 | Israel Tech Night | Buckhead - Exhibition Hall | 6:30 pm to 7:30 pm  | Join Hillel to learn from local Israelis about Israel, the Start Up Nation and about the companies they work for here in Atlanta! |
| Thursday | 11/17 | Photo Contest Reception | 3rd Floor - Clough Undergraduate Learning Commons | 2:00 pm to 3:00 pm | Join the Office of International Education as we celebrate the winners of the annual Photo Contest! |
| Thursday | 11/17 | Friends Beyond Borders - Language Café | Front of O'Keefe Building (Picnic Tables) | 3:30 pm to 5:00 pm | Be sure to stop by the Language Café on Thursday, November 17th, to learn about the cultures, countries, and languages represented at the Georgia Tech Language Institute. |
| Friday | 11/18 | Information Session on 2023 Korean LBAT | Clough Room 102 | 6:30 pm to 7:30 pm | If you want to participate in a summer-long study-abroad program held in Seoul, Korea, June 5, 2023 through July 28, 2023, please come join this information session. (Free food and drinks may be served) |